Educating Habits of the Heart for Citizenship

Alexis de Tocqueville observed almost two hundred years ago that "the future of American democracy depends on nurturing and perpetuating the 'habits of the heart' that sustain a dynamic civil society and effective democratic government." The habits of the heart that we nurture at Campbell Hall - love, compassion, faith, honesty, integrity, love for and careful pursuit of the truth, appreciation for diversity, and the capacity to problem-solve in diverse teams - are the very traits that will make our students better citizens of their city, this country, and the world.
It is hard to ignore, as we are about to begin a new school year, that our democracy seems in some respects to be sliding off the rails. Political leaders equivocate, hate groups are emboldened, university campuses host violent protests rather than reasoned debates, and opposing factions narrate radically different and even contradictory histories and visions for our country. I am so glad we will soon be immersed once again in the weekly rhythms of spiritual and intellectual inquiry that make Campbell Hall such a beacon of sanity, civility, and hope. Our work together has never been more relevant or important. The students we are educating in healthy habits of heart and mind can indeed be the light of the world. The best response we can make to political dysfunction is to double-down on our mission as a community of inquiry. So welcome back and let's get to work!
  Follow Julian Twitter @cannonbull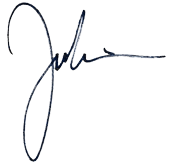 Back